PV Technology & Business Management - Business Course (Offline)
Why people say – IST Business Boosting Course?
We cover business opportunities in Residential, Public Sector, Commercial and Industry, how you will prepare your technical team to fulfill customer requirement? How can you offer optimum electric bill saving or increase money for your Residential, Public Sector, Commercial and Industry customer? Learn from Institute of Solar Technology. You will become good Rooftop Solar Business Developer – 100% grantee. See Detail Syllabus

Admission going on for Jul-2023
PV Technology & Business Management - Business Course (Online)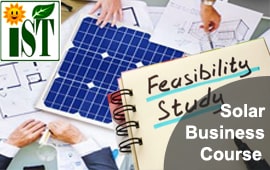 We will cover all topics of the syllabus and more to build Net-Zero Co2 Emissions Earth and grow your business- 100% grantee
Same content as offline PV Technology & Business Management course to boost your business through online live virtual class. Learn about Public, Commercial and Industry Sector solar rooftop project – availability, requirement, benefits and business opportunities through IST Virtual Class room.
Are you doing Job or business, full day work schedule? we are here to start class at Night for you. We can meet in class at your home.

Admission going on for Jul-2023
Onsite Practical at Head Office Solar Power plant
Solar Project Design Master Course
Solar Project Design Master Course: maximizes efficiency in the implementation of detailed project plans, keeping track of goals, tasks, resources, schedules, costs, and contingencies.This Course also enables to identify opportunities to reduce costs and minimize risk; develop systems to manage safety and quality assurance on site and also provide technical assistance to contractors, and report on progress to owners, project developers, and financial partners.

Admission going on for Jul-2023
Solar Operation Maintenance Master Course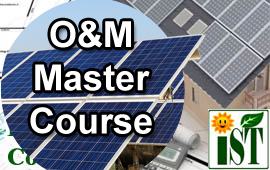 Solar Operation Maintenance Master Course: Knowledge - Understand solar designs and solve the site level issues remotely, Maintain the PR for Solar projects and prepare DPR for generation shortfall issues.
Job Skill - Inverter diagnostics and repair, Performing troubleshooting and repairs on site, Daily plant operation in coordination with O&M operator/In house O&M activities, Preventive maintenance and breakdown maintenance, Understanding of solar PV technologies and day to day plant operations

Admission going on for Jul-2023
Lithium-ion Battery Pack Assembly course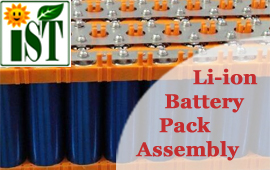 Techno Commercial Course to setup Lithium-ion battery assembly line for solar application, energy storage and EV 2W, 3W etc.
Practical training - cell sellection, cell IR testing, cell balancing, charge discharge testing, module & pack assembling, enclosure selection, all machinery selection, assembly line planning and layout drawing, costing of assembly line, working capital, investment, ROI, business projection making, different product design.
Get the knowledge of Lithium-ion cell parameters, Cell Chemistry, Cell Architecture, Thermal Management, BMS and battery pack assembly technical and commercial detail before setup assembly line.
Admission going on Jul-2023
Solar Power EV Charging Station Design Course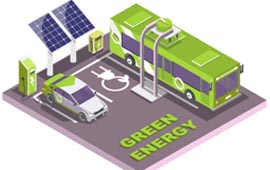 Solar Power EV Charging Station Design Course:

Solar charging stations for electric vehicles have emerged as one of the best ways to reduce India's dependence on fossil fuels. Nearly everyone who owns an Electric vehicle will install a solar charging station in their home. Certificate in Solar Power EV Charging Station (Design and Development) Training Program is a master courses that takes an Engineer, designe engineer, installer from site assessment, all the way through power-up and pinpointing.
Admission going on for Jul-2023
Vocational Training for Engineering students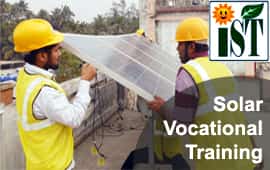 Submit Registration through college department
Winter & Summer Vocational Training for Engineering Student
Vocational training provides the skills needed to start working immediately in a specific industry. Academic session offer a wider education, which qualifies you for a general field of work. Vocational studies formulate an individual for a precise job. It trains a person with the skills and abilities compulsory to do a specific job

Admission going on for 2023
Upcoming - Zero Energy Building (ZEB)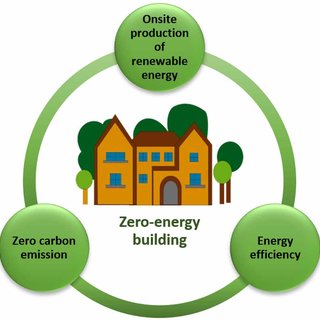 Zero Energy Building (ZEB) Development Course:
Knowledge - These buildings are designed to reduce energy consumption through energy-efficient technologies and to generate energy through renewable sources such as solar panels, wind turbines, or geothermal systems. The ultimate goal is to have a net-zero energy balance, where the building produces enough energy to meet its own energy demands.

Course for: Civil Engineer, Building Architect, Building Advisor, Solar professionals and Building owners.

Admission pre-booking for August 2023
Talent + Training + Teamwork = Startups Entrepreneurs Success Way
Talent:
Successful entrepreneurs are definitely born with traits that help them succeed. But it's rare that anyone is born with very high levels of all talents. If someone is born without a lot of natural entrepreneurial talent, support and development will help that person. Those with lower levels of talent will still benefit from support and development, but they likely won't achieve that same level of success.
Training:
The best way to learn is by doing. Through our structured, step-by-step curriculum of training and challenging business-building assignments, you become as the Founder of an enduring company.

First, attaining a deep level of knowledge, expertise and skill in a particular field could help lead to the start of a more sustainable, high-growth business.
Teamwork:
IST is a collaborative ecosystem, where people of all skill sets, backgrounds, and experiences share ideas, best practices, metrics, and feedback. Why? Because helping each other and sharing expertise leads to faster iteration, more efficient innovation, and faster market growth. So no matter how great the idea and how impatient the entrepreneur, IST can help build the basic skills, knowledge and connections people need to start something of value.